Handouts, Posters, and Talks
For printing handouts, we expect about 150 participants for the main session,  80 participants for Workshop 1, and 60 participants each for Workshop 2 and Workshop 3.
Please also send us your a link to the softcopy of your handout/poster/presentation to [glow42oslo@gmail.com], and we can add links in the on-line programme. If you cannot store it elsewhere (e.g., on Dropbox or your own personal webpage), we can upload it for you and link it.
For presenters of the main session:  The ideal talk is 45 minutes followed by a 15-minute discussion. There will be a computer and projector in the room, if you wish to present a slideshow you can bring your USB stick, your laptop, or you may upload it in the 15-20 minutes before the morning session or afternoon session begins the day of your presentation. We will not be accepting slideshows via email. Please notify us in advance if you need any further device.
For poster presenters: There will be lightning talks at the beginning of both poster sessions. Here authors of posters may present their main claims in no more than 2 minutes. We propose that each poster is introduced by only one of its authors. Poster presenters can send 1 or 2 slides in A4 size landscape in PDF format to Yvonne van Baal in pdf format by April 30th.  Posters can be both A1 size (59.4×84.1 cm / 23.338×33.110 inch) or A0 size (84.1×118.9 cm / 33.110×46.811 inch). Please note that A0-size posters can only be in portrait orientation (otherwise they won't fit the poster boards).
On Campus Printing Services 
The University of Oslo has a print center on Blindern campus which can print both handouts and posters:
Reprosentralen
Step 1: Create a profile and log in.
Step 2: Choose the type and number of the printed product from the menu.
Step 3: Pay. An email confirmation will be received once the payment is through.
A new email is issued when the product is ready to be collected physically from Reprosentralen's customer reception, which is located at the campus (Building: 
Kristian Ottosens Hus
).
NOTE: Reprosentralen normally requires 3 full working days to assure delivery on time.
Printing Services Outside Campus
For printing services outside campus, we recommend Copycat Sentrum at Rådhusgata 17. They generally deliver on the same day. They can be reached by phone at +47 22 33 77 00 or e-mail: sentrum@copycat.no. For directions to Copycat (Sentrum), check the link here.
Places to eat on Campus
All canteens at the campus of the university are run by the Student Welfare Organisation, SiO.  Frederikke is the main canteen situated on the campus. In addition to Frederikke, SV-kaféen is also a good option. For information about opening hours, the daily menu, and location, check the link
here.
 (Please select the first option "UiO, Blindern" from the drop-down menu).
Child Care Services
For those who will bring small children along to the conference, here are two suggested babysitting services:
Sitly (Norway's number 1 babysitting platform)
Barnepasseren, (information on webpage only in Norwegian)
Weather
The average temperature in Oslo in May is around 15 degrees Celsius (average in the evening is around 7 degrees).
Local weather info here.  Please note that the sun rises early and sets late in May. We recommend bringing a sleep mask if your sleep is easily disturbed by light.
Other information
Payment by card is generally preferred (instead of cash).
The number to call in case of an emergency is the same as in the rest of Europe: 112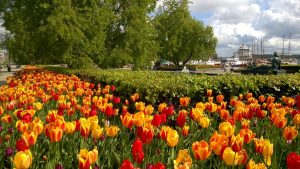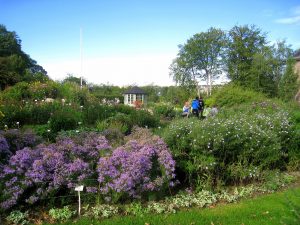 Aker Brygge (maxpixel.net)                                                      Oslo Botanical Garden (Wikimedia commons)