ATTENDING
Due to GLOW43 being an international conference, going fully virtual means that a compact, rigid schedule could be inconvenient for people living in vastly differing time zones. It has therefore been decided to hold the conference over two weeks, from April 8th, 00:05 to April 20th, 23:55 CEST (UTC+2). During this time, you will be able to view, download, and engage with as many talks and posters as you would like. In fact, we are sure that our presenters would appreciate any and all feedback, since they are taking a lot of extra steps in order to make the first virtual GLOW possible. As such, please consider engaging with the contents of the conference more proactively than you might have time or energy for during a typical three-day conference.
Attendees can interact with presenters in live Q&A sessions. The time slots are picked by the presenters themselves. You can find these slots in the programme as well as on the respective projects' OSF subpages. While you can engage with the posters and talks whenever you want by leaving comments or tweeting about them using the #GLOW43 hashtag, feel free to tune into these live sessions to have your questions answered on-line!
Some time slots might be inconvenient due to differences in time zones. Please contact the presenter, e.g. by leaving a comment on the project's page (see below), in order to ask about alternatives.
If you are having difficulties, please contact us at glowlinguistics43@gmail.com or @glow43hu and we will help you get engaged.
The content of this page is partially adapted from CUNY2020 at UMass.
---
ACCESSING PROJECTS
Please proceed to the GLOW OSF repository to access the files uploaded by our presenters. On the repository page, you should see a list of all the available projects. You can sort this list by any column as well as search for a particular talk or poster using the search bar: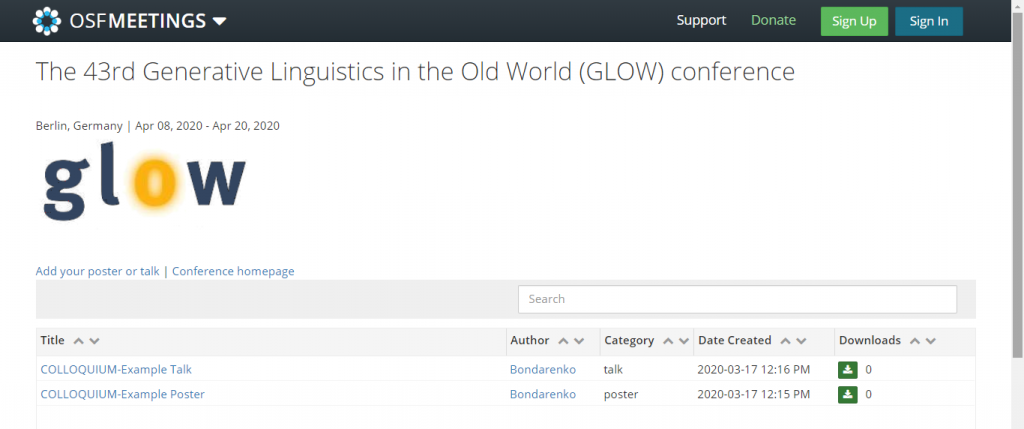 Simply click the title of the project you are interested in to access its subpage. You can see the title of the talk/poster in the upper left corner of the subpage. The Wiki panel contains the abstract and any auxiliary information. The Tags panel in the right-hand half of the screen also offers additional info about the project – use its contents to quickly find similar projects via the search bar on the main page of the repository. Just below Wiki is the Files panel.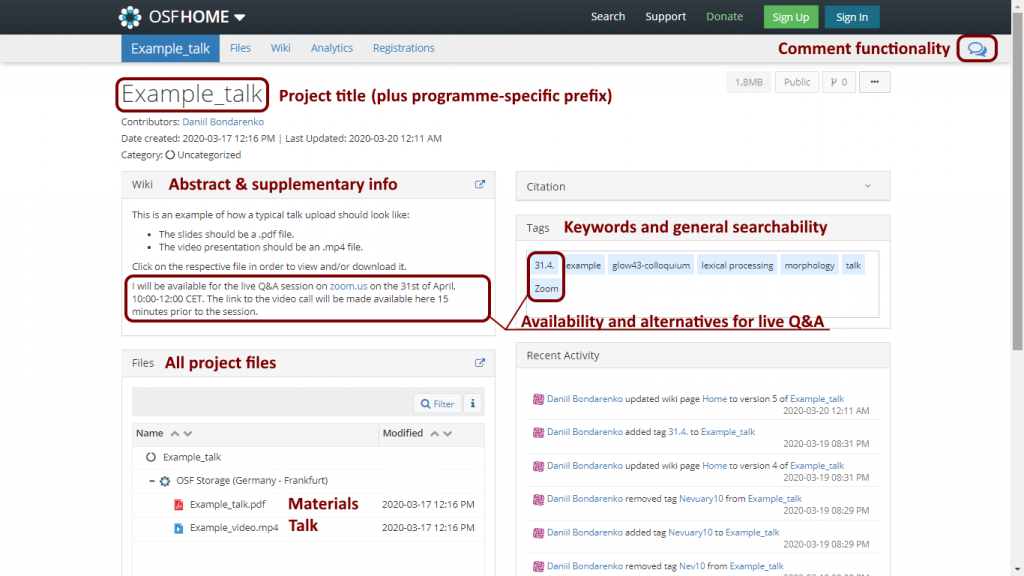 Each project will have at least a PDF file containing the slides or a copy of the poster. Optional but welcome additions are (close-captioned) video presentations. Click on a file in order to view and/or download it. Alternatively, you can select the parent row named OSF Storage in order to access the option to download all the files of a project as a single .zip archive:
You do not need an OSF account in order to view or download the files. All files should be accessible between April 8-20. Afterwards, presenters may hide or delete their project subpages should they wish to do so.
---
INTERACTING WITH YOUR COLLEAGUES
The OSF repository comes with comment functionality, allowing anyone with an OSF account to engage with its contents. Note that if you have submitted a talk or poster to the repository via one of its two email addresses, an account has automatically been set up for you with the email address you used to submit your project.
You can register for an OSF account here. Please consult our code of conduct before registering.
Every project has a public comment section which can be accessed by clicking the speech bubble in the top right corner of the page. Here you can post, edit, and delete your comments, as well as interact with the presenter and your fellow participants: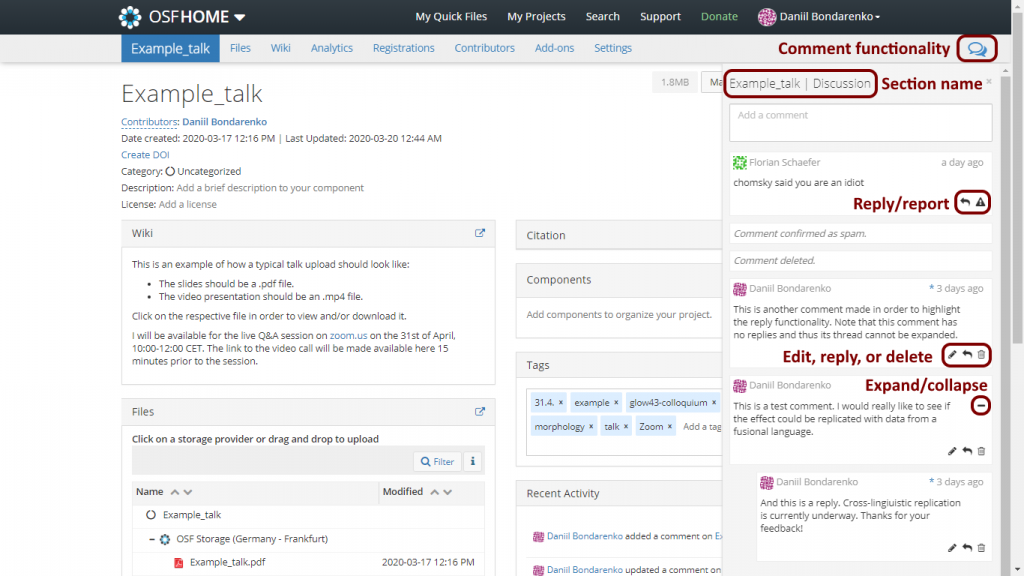 Every subsection of a project page that can be viewed separately comes with its own comment section, indicated in its name. This is most prominent when viewing the project materials. While this functionality has its uses, we ask that you keep this in mind when engaging with the projects and mainly use the general comment sections: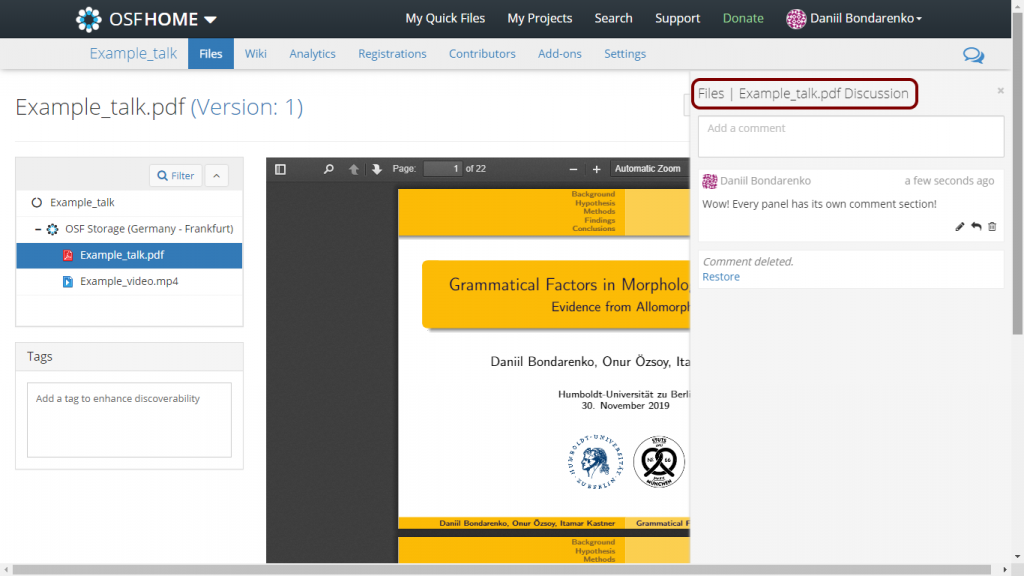 We aim to use these comment sections as the main locus of discussion. Presenters will be available to respond to any comments either in real-time during set time slots or at their own discretion, while attendees are encouraged to engage with each other's comments. Please refer to the programme in order to see when a presenter will be online to engage with you directly. Aside from the OSF comment section, presenters can choose to use other communications channels such as Google Hangouts, Zoom, Skype, etc. for the live Q&A sessions. Check the project's Wiki and Tags panels in order to see what (if any) alternatives are available.
Note that you cannot comment anonymously – your account's credentials, as well as your comments, are public. Refresh your page in order to see any new comments. Comments on OSF and any other interactions are subject to our code of conduct.
---